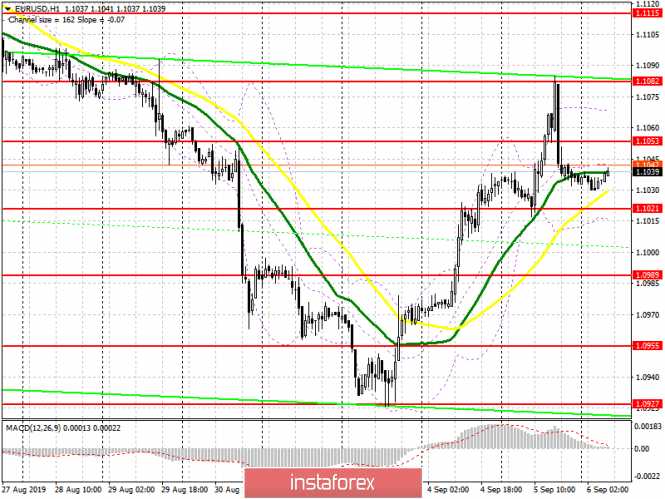 To open long positions on EURUSD you need:
Yesterday, euro buyers tried to continue to grow even amid weak German data, which turned out to be a bad idea. Currently, the focus in the first half of the day will be on the eurozone GDP report for the 2nd quarter of this year, as well as a breakthrough of the level of 1.1053, which will lead to updating yesterday's high in the area of 1.1082, where I recommend taking profit. A larger growth in the morning should not be expected due to the release of important fundamental statistics from the US labor market. Under the scenario of EUR/USD decline, one can count on support in the region of 1.1021, however, it is best to open long positions from there after a false breakdown, or buy the pair for a rebound from a low of 1.0989.
To open short positions on EURUSD you need:
Euro sellers are activated after an update of resistance at 1.1053, and the formation of a false breakdown there will be the first signal to open short positions in the expectation of a return and correction to the support of 1.1021. However, a more important task, closer to the afternoon, during the release of fundamental statistics on the US labor market will be a breakthrough and consolidation below this low, which will push EUR/USD to the area of large levels 1.0989 and 1.0955, where I recommend taking profits. In the event of further growth above the resistance of 1.1053, which may occur after the release of the eurozone GDP report, it is best to count on sales on a rebound from a high of 1.1082, which kept the pair from further growth yesterday.
Signals of indicators:
Moving averages
Trade is conducted in the region of 30 and 50 moving average, which indicates market uncertainty before the release of important data.
Bollinger bands
In case of growth, the upward trend will be stopped near the upper boundary of the indicator 1.1065, while the lower border in the area of 1.1015 will support.
Description of indicators
MA (moving average) 50 days – yellow
MA (moving average) 30 days – green
MACD: Fast EMA 12, Slow EMA 26, SMA 9
Bollinger Bands 20
The material has been provided by InstaForex Company – www.instaforex.com
Source:: EUR/USD: plan for the European session on September 6. Eurozone GDP data may put pressure on the euro, but bears need a break