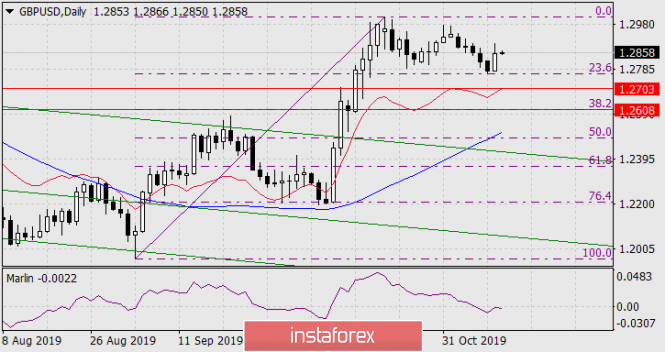 GBP/USD
The British pound jumped 120 points yesterday and closed the day with a total of 75 points on an unexpected statement by Brexit leader Nigel Faraj refusing to fight the Conservative Party during the election campaign to avoid a second referendum. Moreover, Faraj announced his intention to fight with opposition parties. The market reaction looks more than strange, because such an action means a separate Brexit deal with Conservatives, the strengthening of Boris Johnson's position, and, accordingly, the exit from the EU on its terms. That is, nothing changed for the pound yesterday. Faraj's position can be understood only in a different light – his party's rating in the last poll fell to 6% and he still has a chance to get into Parliament in the bloc with the Conservatives. The Conservative party has a rating of 41%, the Labour Party is second with 29%, the Liberal Democratic Party is third with 15%, and Brexit is only 4th, ahead of only 5% of the SNPs.
The growth of the pound occurred in a relatively thin market, the daily volume was almost the smallest in the last month. We look forward to a quick price reversal down. But, nevertheless, the impulse was set yesterday, it can be worked out until it is completely depleted by another attempt to grow with the conditional intention of the market to block yesterday's high. The Marlin oscillator signal line on the daily chart is testing the boundary with the growth territory, which also suggests a speedy price reversal.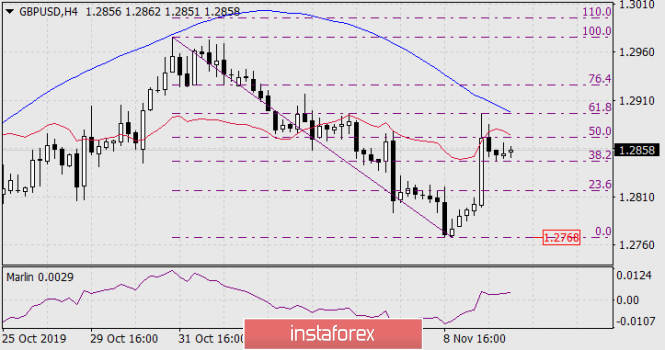 On the four-hour chart, the last attempt at growth may look like an increase to the MACD line and a correction level of 61.8%, that is, to the area of yesterday's price peak.
A scenario with the price moving down from current levels is equally probable. We are waiting for the price at 1.2768 with any plan- the low of Friday.
The material has been provided by InstaForex Company – www.instaforex.com