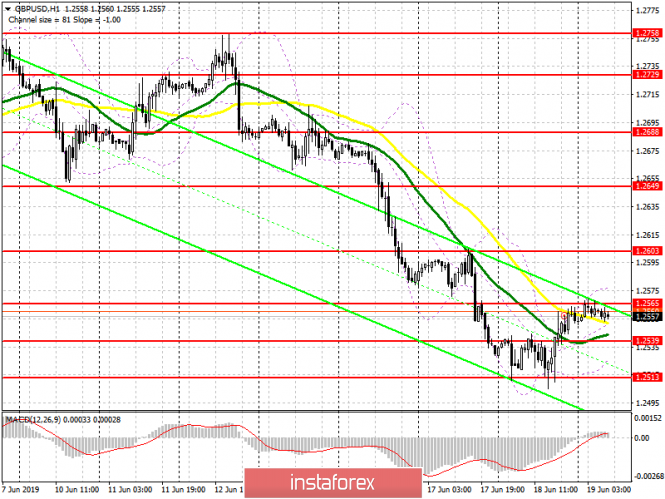 To open long positions on GBP / USD you need:
Today, pound buyers will try to get out of the side channel and break through the resistance of 1.2565, which will be a signal to open long positions to the highs of 1.2603 and 1.2649, where I recommend taking profits. However, in the first half of the day the whole emphasis was shifted to inflation data, which will set the direction of the market. Under the return scenarios for support at level 1.2539, the bulls will try to form the lower boundary of the new uplink after the support test at level 1.2513. Otherwise, it is best to open long positions immediately to rebound from a minimum of 1.2483.
To open short positions on GBP / USD you need:
Bears will wait for an inflation report. Forming a false breakdown in the 1.2565 resistance area in the first half of the day will be a good signal to open new short positions; however, the main task of the bears will be a breakout and consolidation below 1.2539 support, which pushes GBP / USD down and allows us to count on the 1.2513 and 1.2483 minimums, where I recommend take profits. When the growth scenario is above resistance 1.2565, short positions can be returned to rebound from a maximum of 1.2603.
Indicator signals:
Moving averages
Trade is conducted in the region of 30 and 50 moving averages, which indicates a possible completion of a bearish trend.
Bollinger bands
In the case of a decrease in the pound, support will be provided by the lower limit of the indicator in the area of 1.2520, while a break through by the upper limit in the area of 1.2570 will be a signal to buy the pound.
Description of indicators
MA (moving average) 50 days – yellow
MA (moving average) 30 days – green
MACD: fast EMA 12, slow EMA 26, SMA 9
Bollinger Bands 20
The material has been provided by InstaForex Company – www.instaforex.com
Source:: GBP / USD: plan for the European session on June 19. Inflation data may support British pound