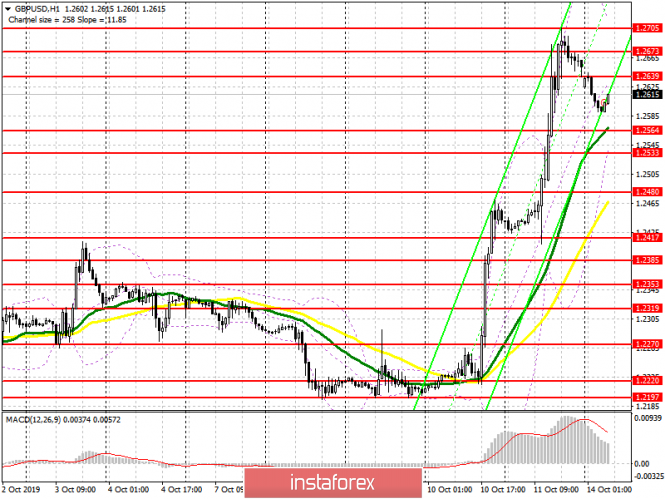 To open long positions on GBP/USD you need:
The pound continued to grow on Friday, which began on Thursday, after a meeting of the prime ministers of Ireland and the UK. EU officials said that a Brexit deal was possible, and asked Boris Johnson to provide details of the plan, which strengthened the British pound. At the moment, it is best to consider new long positions after a small downward correction to the support area of 1.2564 and 1.2533. The main target of the bulls will be the resistance 1.2639 and 1.2673, where I recommend taking profit. However, it is worth remembering that it is Columbus Day today in the United States, which will significantly reduce market volatility. Any positive news regarding the Brexit deal will only fuel interest in the pound.
To open short positions on GBP/USD you need:
Open short positions in the pound in the current conditions would not be the right decision, as any Brexit news could trigger a new wave of growth. Only unsuccessful consolidation and the formation of a false breakdown in the morning in the resistance area of 1.2673 will be a signal to sell GBP/USD with the short-term goal of falling to the support area of 1.2564, where I recommend taking profits. When breaking through the high of last week, it is best to consider new short positions for a rebound from resistance at 1.2741 and 1.2781.
Signals of indicators:
Moving averages
Trading is above 30 and 50 moving averages, which indicates the maintenance of a bullish trend.
Bollinger bands
In case the pound falls, the lower boundary of the indicator in the area of 1.2564 will provide support. Growth will be limited by the upper level at 1.2705.
Description of indicators
MA (moving average) 50 days – yellow
MA (moving average) 30 days – green
MACD: Fast EMA 12, Slow EMA 26, SMA 9
Bollinger Bands 20
The material has been provided by InstaForex Company – www.instaforex.com
Source:: GBP/USD: plan for the European session on October 14. The pound will continue to grow as the likelihood of reaching an agreement