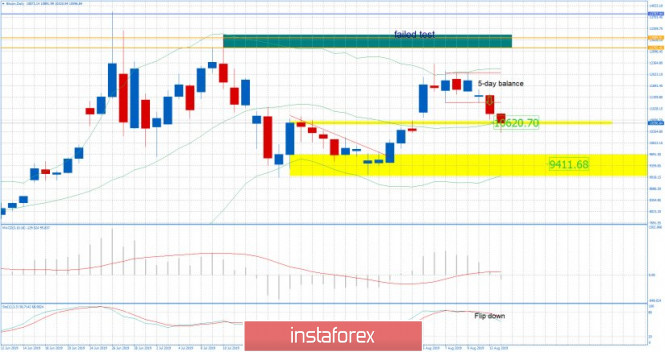 Industry news:
Over the past years, many bodies have published data on massive wealth concentration in an otherwise decentralized Bitcoin network. Some of these reports have identified that less than five percent of all bitcoins addresses hold about 95 percent of all bitcoins. Research published in 2017 by How Much showed that 1 percent of those addresses had control over half of the bitcoin market.
Joining the ranks of those studies is TruStory, a platform for users to research and validate people's claims online. The startup's Founder and CEO Preethi Kasireddy on Tuesday shared new statistics about bitcoin's so-called wealth disparity problems. She noted that now 2 percent of addresses control 80 percent of the cryptocurrency's supply.
Daily analysis:
My first yesterday's target at the price of $10.620 has been reached. Anyway, there is a still chance for mode downside and potential test of my secondtarget at the price of $9.400. The downward started after the breakout of the 5-day balance in the background and the breakout is still active for at least few days.
Important levels to watch:
Yellow rectangle – Support $10.600
Yellow rectangle – Support 2 ($9.410)
Green middle of the Bollinger –Sell zone on the rally ($11.000-$11.150)
4H time-frame analysis: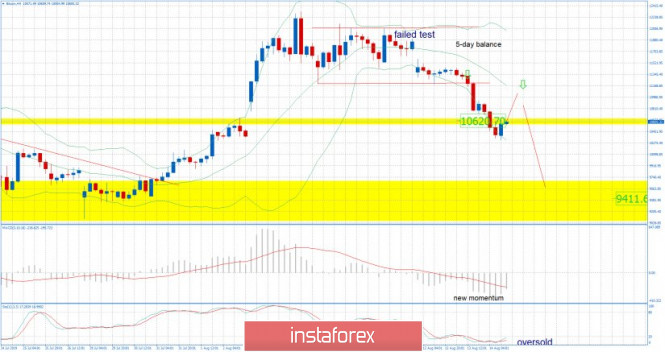 Based on the 4H time-frame, I found new momentum down on the MACD oscillator, which is sign of the new money selling. Anyway, the stochastic oscillator is showing temporal oversold condition and that is why the best idea in my opinion is to wait for rally and sell after the potential bullish correction. Level around $11.000 seems like a good zone to sell.
The material has been provided by InstaForex Company – www.instaforex.com
Source:: BTC 08.14.2019 – New momentum down and possible more downside