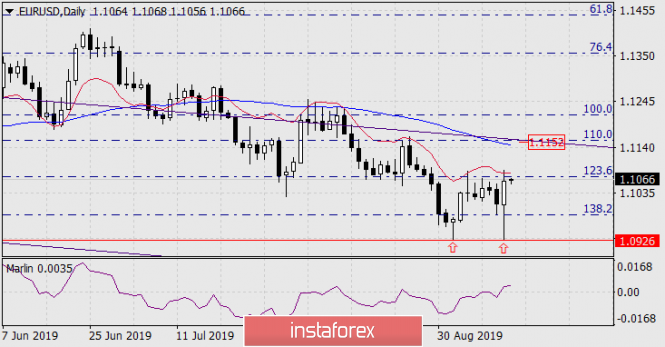 EUR/USD
On Thursday, the ECB announced a significant easing of monetary policy: the base rate fell to -0.5%, the program of asset repurchase on the balance sheet of the ECB from November 1 was set at 20 billion euros per month. Economic forecasts were lowered: for GDP for the current year from 1.2% to 1.1%, for the next year from 1.4% to 1.2%, the forecast for inflation for the current year was lowered from 1.3% to 1, 2%, next year from 1.4% to 1.0%. From the moment of release until the end of Mario Draghi's press conference, the euro fell and lost 100 points, but then the inexplicable happened – the euro turned up, closing the day by 54 points. The euro's growth from low to the high of the day reached 160 points. Western media claim that the market reversal was allegedly due to a change in the tone of Draghi's speech and investors' understanding of the inadequacy of the measures taken to stop the impending crisis. But Draghi's speech, as you can easily see, only after reading it, there was no change in tone, and the measures taken were more than enough to completely forget about the euro's growth even when the Fed rate was lowered at the next meeting on September 18th. Daily trading volumes were the largest over the past five months, and we believe that there was an agreed action by the biggest players to keep the euro from falling. And it happened with the opening of the US session. This turn of events may be partly due to the fact that the base CPI in the US showed an increase from 2.2% y/y to 2.4% y/y and this could be a formal reason for lowering the rate by 0.5 points at once. That is, yesterday's trading occurred on the inside. Perhaps the Federal Reserve and major investors are just keeping a neutral attitude with Trump. Or maybe, the timing in the strategic plans of the Americans simply did not fit the euro's fall.
The technical situation was no less complicated. In the fall, the euro reached a low on September 3, consolidation under the Fibonacci level of 138.2% did not occur, the decline to 161.8% (1.0838) was canceled. Growth stopped at 123.6%, at the resistance of the balance line of the daily scale. The Marlin Oscillator is in the growth zone. Apparently, the euro will now go to the Fibonacci level of 110.0% at the price of 1.1152, where the price channel line and the MACD line are also located.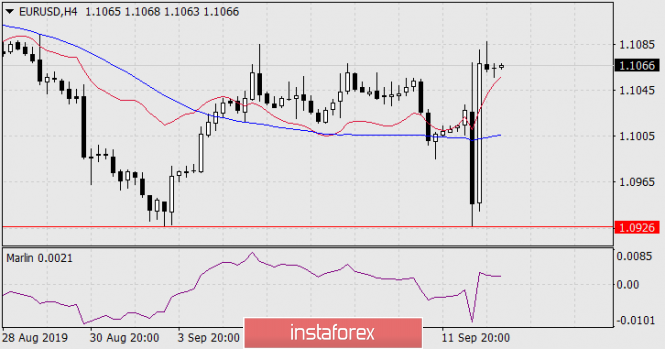 The situation is completely upward on the four-hour chart – the price is above the indicator lines, Marlin is in the growth territory.
The material has been provided by InstaForex Company – www.instaforex.com
Source:: Forecast for EUR/USD on September 13, 2019
Won't your trader friends like this?