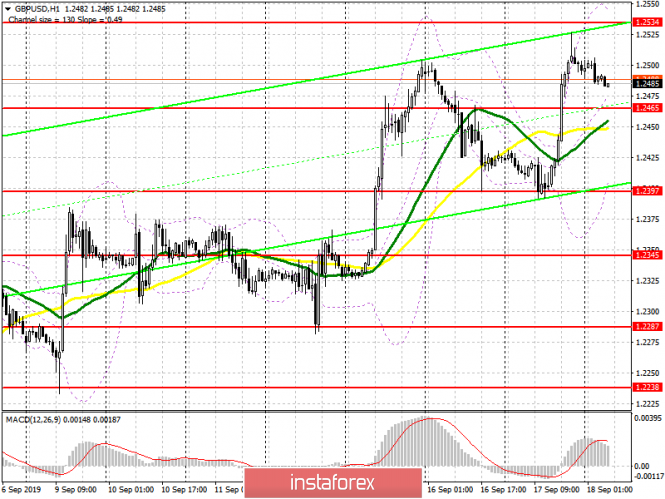 To open long positions on GBP/USD you need:
It seems that traders decided not to wait for the Fed's decision on interest rates, and wager it before publication. The pound's growth from yesterday can only be tied to this, as there were no other real prerequisites for purchases. An important inflation report will be released today in the morning, which may indicate the Bank of England's further policy regarding interest rates. A good report will lead to a false breakdown in the support area of 1.2465 and a further upward trend in GBP/USD, and a break of resistance of 1.2534 will only strengthen the bullish sentiment. In this scenario, we can expect the highs to be renewed around 1.2563 and 1.2600, where I recommend taking profits. When the pound drops to support at 1.2465 in the morning, it is best to consider new long positions on a rebound from a large low of 1.2397.
To open short positions on GBP/USD you need:
Sellers will count on a weak inflation report and the formation of a false breakdown in the resistance area of 1.2534, which will be the first signal to open short positions. However, a more important task in the first half of the day will be to break the low at 1.2465, which could further pull down GBP/USD to the level of 1.2397, where I recommend taking profits. If the bullish sentiment persists, and this is more likely, given that the US Federal Reserve will lower interest rates today, then it is best to count on new sales from a high of 1.2600, or even higher, from a level of 1.2639.
Signals of indicators:
Moving averages
Trading is conducted slightly above 30 and 50 moving average, which indicates the likelihood of continued upward trend.
Bollinger bands
If the pound declines, support will be provided by the lower boundary at 1.2410. An upward trend may be limited by the upper level of the indicator at 1.2535.
Description of indicators
MA (moving average) 50 days – yellow
MA (moving average) 30 days – green
MACD: Fast EMA 12, Slow EMA 26, SMA 9
Bollinger Bands 20
The material has been provided by InstaForex Company – www.instaforex.com
Source:: GBP/USD: plan for the European session on September 18. The pound strengthened before publication of Fed decision on interest