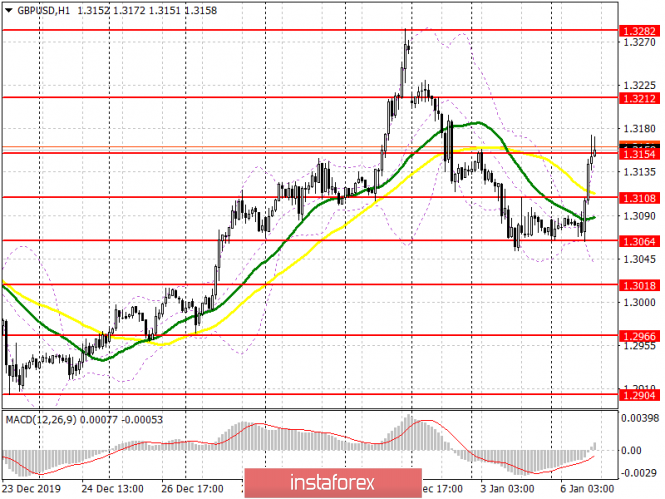 To open long positions on GBPUSD, you need:
Good data that the activity of the UK services sector returned to the level of 50 points indicate the first signs of growth, which allowed the British pound to strengthen its position against the US dollar in the first half of the day. At the moment, the goal of the bulls is the resistance of 1.3154, which sellers are trying to keep in every possible way. Its breakout will allow you to increase long positions, which will lead to an update of the maximum of 1.3212, where I recommend taking the profits. A further target will be the range of 1.3282, which will coincide with the maximum on December 31 last year. In the scenario of good statistics on the US services sector, it is best to return to long positions after forming a false breakout in the support area of 1.3108, or a rebound from the minimum of 1.3064.
To open short positions on GBPUSD, you need:
Sellers have already rebuffed in the resistance area of 1.3154, but there are very few willing to open short positions. Most likely, traders will rely on good indicators for the US services sector before returning to the market. A more acceptable level for opening short positions, while maintaining the growth of the pound, will be the resistance of 1.3212. You can sell GBP/USD immediately on the rebound from the maximum of 1.3282. However, an equally important task will be to reduce the pound to the support of 1.3108, as well as closing the day below this range, which will keep the pressure on and will not allow the bulls to take control of the market at the beginning of the week.
Indicator signals:
Moving Averages
Trading is just above the 30 and 50 daily averages, which is the first step to the formation of a new upward trend.
Bollinger Bands
If the pound falls, the average border of the indicator around 1.3100 will provide support.
Description of indicators
Moving average (moving average determines the current trend by smoothing out volatility and noise). Period 50. The graph is marked in yellow.
Moving average (moving average determines the current trend by smoothing out volatility and noise). Period 30. The graph is marked in green.
MACD indicator (Moving Average Convergence / Divergence – Convergence / Divergence moving average) Fast EMA Period 12. Slow EMA Period 26. SMA Period 9
Bollinger Bands (Bollinger Bands). Period 20
The material has been provided by InstaForex Company – www.instaforex.com
Source:: GBP/USD: plan for the US session on January 6. The UK service sector has returned to growth. The pound is aimed at the level